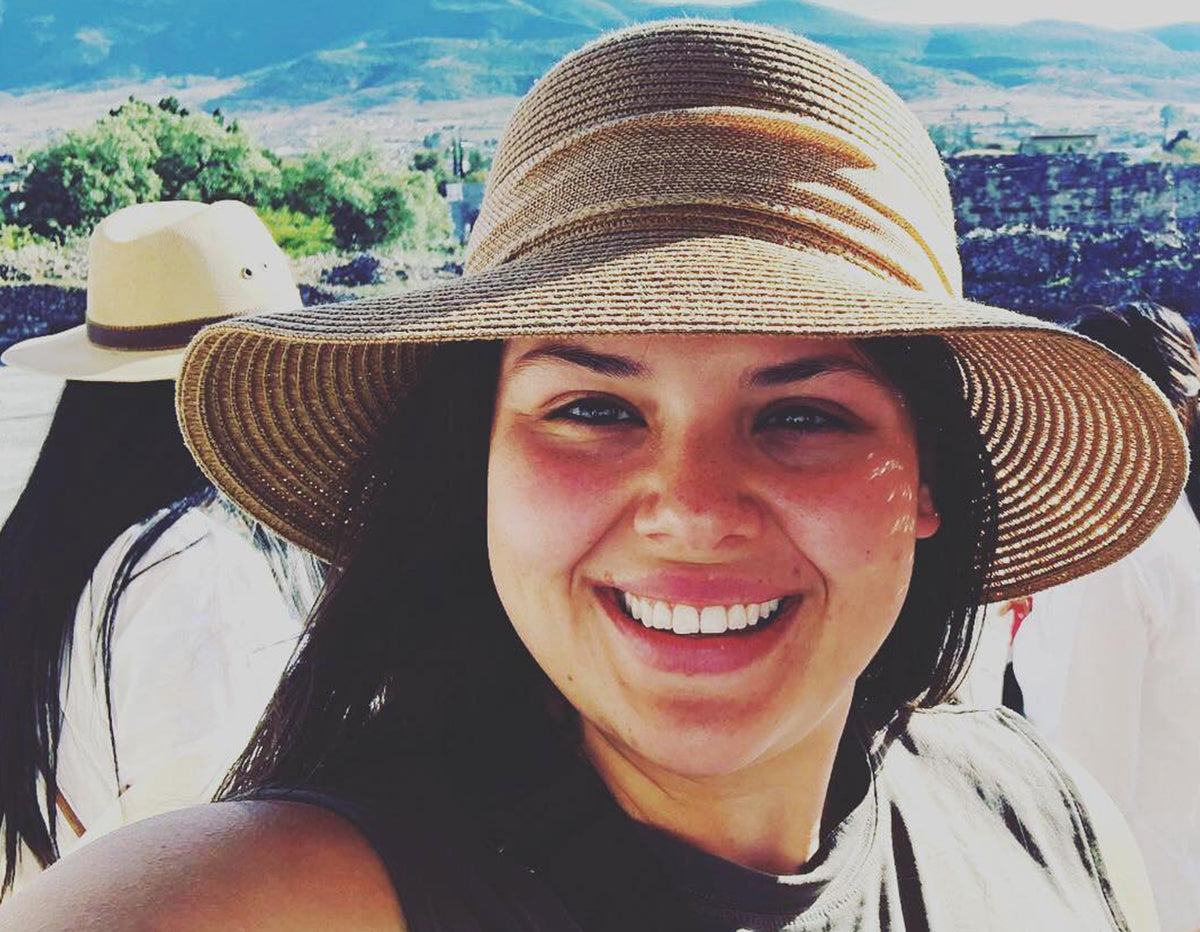 Faces of the Goddess – Brittany Connolly Hernández
January 12, 2021
Brittany A. Connolly Hernández (she/ella) is an ESTJ on the Meyers-Briggs, a diversity and inclusion consultant, and a higher education administration professional.  
Brittany began her pathway toward higher education at a local community college, continuing on to a public state university to earn two Bachelor's degrees in four years, and culminating in a Master's degree from Yale. These experiences led her to pursue a career in higher education. She is passionate about developing and implementing strategic goals for universities and related institutions. Brittany also serves as an independent consultant for the private sector, where she helps industry leaders effect positive change within their organizations. 
In her spare time, she enjoys trying new skincare products, working out, and planning her COVID-19 era wedding with her fiancé.
---
1. Who and what is foremost in your heart? (Who and what in your personal life is most important to you?)
There is little that is more meaningful than a connection to one's life through relationships near and far. I especially value my friendships from different stages of my life and personal growth. Friendship, for me, is the practice of sharing acceptance, vulnerability, joy, life's challenges with each other. It's the practice of knowing each other for who we were, who we are, and who we are becoming. Life-long relationships where I can be myself, create memories, and share experiences truly bring life to my spirit.
2. How would you describe your work? How does the work you do impact consumers/environment/world?
As a higher education specialist and diversity consultant, I provide critical leadership to universities and other organizations at the administrative, decision-making level. I am committed to fostering the intellectual pursuits of public and private universities, their various faculty members, and their diverse student constituencies. I am especially passionate about student affairs and investing in the next generation of global leaders, young professionals, and creative thinkers. 
The ways in which universities impact students and society are changing. Some of those changes were already in place prior to the intensification of COVID-19, though the current pandemic has accelerated and magnified their progression. 
As we move ahead, we must examine the ways in which higher education understands and acknowledges the impacts of consumerism. How can we move away from the belief and practice of an education as a form of consumerism? How are we making a college education accessible for those who are first-generation or low-income students, for example? What role do universities play when it comes to protecting and caring for the environment, both short- and long-term?
The practice of asking these types of questions and the leadership needed to enact positive change are both necessary as we consider higher education's impacts on local, national, and international communities. 
3. What are you most proud of?
I am proud of where I come from and the ways in which I have navigated through my educational and life experiences. As a first-generation and low-income college student, I made the difficult decision many years ago of selecting a university based on long-term financial impact. I am proud to have completed both of my undergraduate degrees at a public institution. 
I am also proud of the life that I have built and that I am continuing to build. I strive to stay true to myself and to the next steps that lie ahead of me, whether within my current field or beyond. I take pride in advancing an institution's mission. I am also considering whether I would like to pursue another graduate degree.
4. Which is one cause / organization you want us to know about? What would you like to see happen?

 
Unidad Latina en Acción or ULA , based in New Haven, CT, supports and protects immigrant workers and their families. I'd like to see this organization continue to succeed, and for similar organizations around the country receive the recognition and resources they deserve.
5. What are you most passionate about sharing with others at this time?

Patience is a virtue. The past few months have invited me to reflect more deeply on this practice. I am continually asking myself the following questions: What is the art of patience? What does it mean for me in the context of work, my personal life, and self-growth? How do I determine the balance between drive and patience?
---
Getting To Know You, the Goddess
Name – Brittany Connolly Hernández
Hometown – NYC / South Florida
Current Location – I am a new resident of Dallas. We moved from New Haven, CT less than a week ago!
Vocation – I'm passionate about higher education administration and diversity and inclusion efforts. I take pride in advising institutions on how to advance their vision and mission.
It's 3:30pm, what are you drinking? In this heat? A large glass of ice water with a fresh lemon!
Favorite place you've visited? Barcelona, Spain
Currently Reading – Lost Children Archive: A Novel, by Valeria Luiselli
Currently listening To – Two podcasts: "Unlocking Us" with Brené Brown and "Nice White Parents" by the NYT, hosted by Chana Joffe-Walt.
Favorite Sustainable Fashion Brand – Sheertex makes incredible no-tear stockings!
---
Getting Personal
Who was / is your favorite pet? My sister's Shih-Poo is a perfect angel from heaven. His name is Gambino, but his friends call him Bino.
Next destination on your list?  We've moved our October 2020 wedding to October 9, 2021. We're planning for our next destination to be our honeymoon to South Africa!
What is one of your superpowers? I am a pusher. I want to see people thrive and their ideas flourish.
What was your first job? Or what was your most random job? My first job was at my parents' automotive repair business when I was only 11. I would go in each Saturday with my dad, drive and organize cars on the lot, learn how to do oil changes, and check out customers. The opportunity to work with my parents taught me some of the most important lessons about work ethic, discipline, and the value of a dollar.
Who introduced you to your industry? I discovered the interrelated world of higher education administration and diversity and belonging work while completing my Master's at Yale. I served as a Graduate Assistant at La Casa Cultural: The Latino Cultural Center, which enabled me to deepen my perspectives about the types of resources available to under/graduate students and local community members.
I also met my fiancé at La Casa. Needless to say, my time there was incredibly valuable.
Best advice you've been given? Know when to care for myself and recharge.
Best advice you give? Always be honest with yourself, even when that's the most difficult option.
Current pleasure? Definitely resting on my Leesa mattress. 
What is something or someone you're coveting at the moment? For many years, I coveted those who had the privilege to work from home and live near their immediate family and friends. Now that we are beginning a new chapter in Dallas, I finally have both opportunities. I am excited to see what the next few years hold for us professionally and personally, both as individuals and as life-long partners.
What is one sustainability practice you incorporate in your work/life? Buying sustainable, local, wild crafted and female-made skincare products is one of my most important sustainable practices.
Who is a thought leader you admire? Barack and Michelle Obama.
What / who represents Beauty to you? Beauty is feeling comfortable in one's skin. Beauty is so much deeper than specific measurements or societal standards. Confidence is beautiful.
What does Beauty mean to you? Beauty is the perfect match of self-care and self-acceptance. You must love yourself to know that you're beautiful. As my mom always says, you have to love yourself first.
What is one Self Care practice you enjoy? Morning and evening skin care rituals are absolutely my go-to self-care practice. For the past 4+ years, skincare and green beauty have been one of my greatest hobbies. I enjoy trying new cleansers, masks, serums, and moisturizers, and I especially enjoy creating morning and evening rituals. I don't use just one line. It's fun to get to know how my skin is feeling and reacting on any given day, and to respond with a lineup of nourishing and relaxing products.
P.S. Feel free to reach out to me at _greenbeautyglow@gmail.com or on IG for product favorites and recommendations. My media account is a fun, new hobby!
P.P.S. KYPRIS is incredibly luxurious and their ingredients, product textures, and presentation are hard to top.
What is one change you hope to see in the world that you make an effort to embody? I imagine a world in which we all take our environmental responsibilities seriously. This begins with simple decisions. At home, we are highly conscious of what we eat and how our food is sourced and packaged. We are dedicated to rethinking how we engage with the environment and strive to live beyond excessive consumerism. 
Credo beauty has an excellent recycling initiative in place for those with skincare empties. It can be found here.
You've been given a magic wand, what is your first spell? My first spell would be to remove ego, selfishness, and greed from human nature.