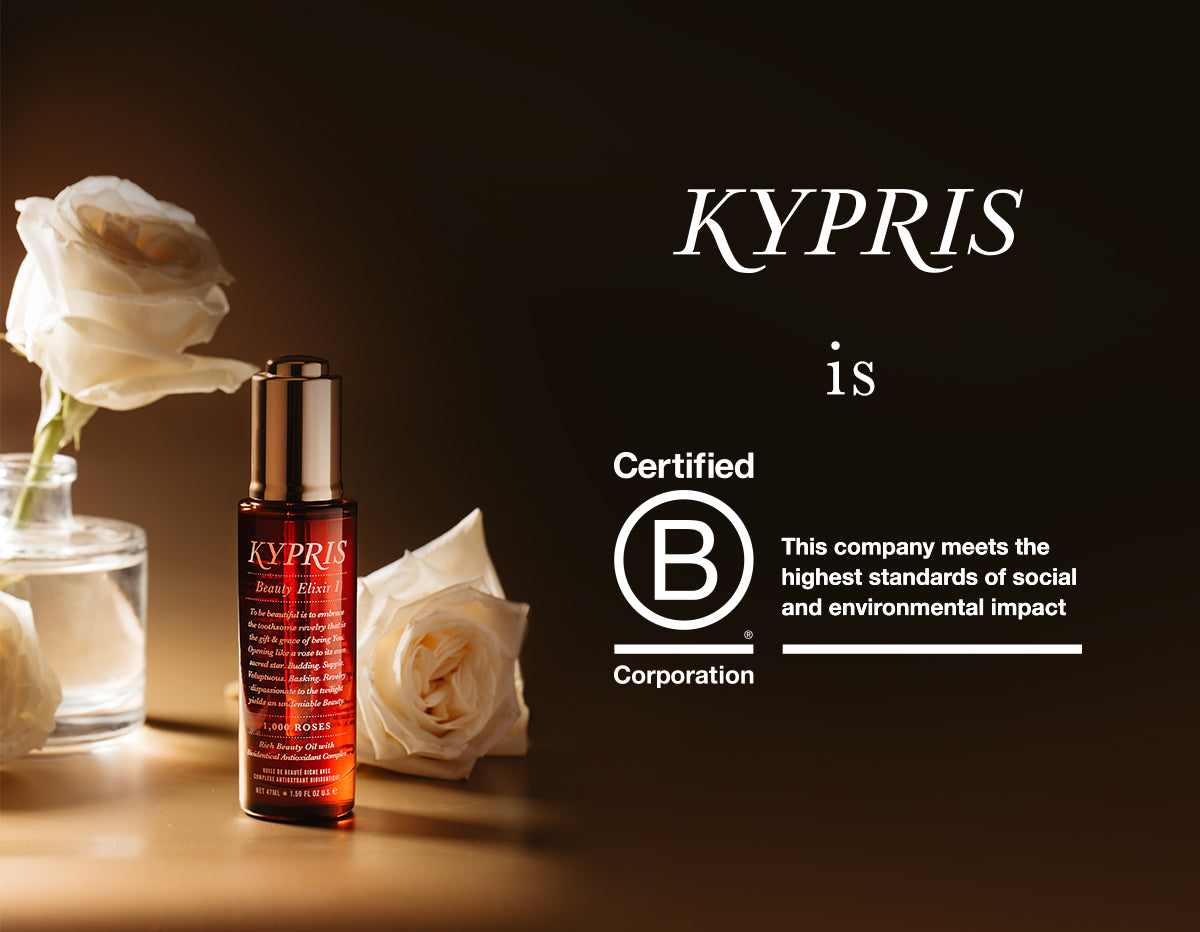 Our Impact: KYPRIS is a B Corp Beauty Brand
August 30, 2021
KYPRIS Beauty is ecstatic to be a Certified B Corporation™ (also known as a B Corp)! B Corporations use business as a force for good, meeting the highest standards of verified social and environmental performance, public transparency, and legal accountability. While over 75,000 companies have applied for B Corp certification, we are among only ~ 3,800 companies who have achieved B Corp. This certification is a mighty development in the manifestation of the dream that is KYPRIS!
KYPRIS is a hefty dose of daily enchantment, but the practices of who and what we are are as humble and interpersonal as they come. This work is only made possible by you and for you.
While the formal certification process took nearly two years to complete (and answering hundreds of in depth questions about our operations, supply chain, products, and manufacturing!), achieving the standards that make KYPRIS a B Corp began at the inception of the brand. These are the guiding social and environmental principles that not only played a part in becoming a Certified B Corporation, but are also key pillars of KYPRIS - Beauty from Beauty: 
Kindness to The Earth
KYPRIS believes what we do to ourselves we do to our planet, so our products must not increase the burden of toxic load on our bodies, or the Earth. This means for each KYPRIS offering, from ingredients to packaging, we consider how each and every choice we make impacts the Earth. In action this looks like: 
Ingredients from an array of sustainable, certified sources

100% Post Consumer Recycled unit cartons and gift boxes, etc

Glass primary packaging that is recyclable, doesn't leech into products or into the environment.

Joining Pact Collective to be responsible for packaging components that are more difficult to recycle.
Kindness to Her People
We have an obligation to ensure our supply chain is free from enslavement and exploitation of people and animals. Exploited people exploit beings and places - and ingredients that result in the exploitation of places and beings are rampant in the Beauty industry. The means are the end. And while men and women are both at risk of enslavement, too often exploitation of women and girls is normalized. Commonly used terms like "unpaid work" or "free work" and "child marriage" are glossed terms that actually mean slavery. Keeping our supply chain free of the exploitation of people looks like: 
We require transparency from our sources and do our best to vote with our dollars to purchase materials that come from sources with a clear mission to treat labor and land fairly. 

We consider the geopolitical concerns of the area, labor standards of the farm or group we are sourcing a material from, and any other qualifications like UN Global Compact participation that ensures we are sourcing responsibly both ecologically and socially.

We support women-owned farms. There is not a country in the world where legally and culturally, women have equal rights to men - not even in the USA. So while ending modern slavery is the ethical thing to do, it's also important to recognize how it can feed itself with girls and women insufficiently protected or respected culturally and legally.
What Does Certified B Corporation Mean?
Certified B Corporations are businesses that meet the highest standards of verified social and environmental performance, public transparency, and legal accountability to balance profit and purpose. B Corps are accelerating a global culture shift to redefine success in business and build a more inclusive and sustainable economy.
Society's most challenging problems cannot be solved by government and nonprofits alone. The B Corp community works toward reduced inequality, lower levels of poverty, a healthier environment, stronger communities, and the creation of more high quality jobs with dignity and purpose. By harnessing the power of business, B Corps use profits and growth as a means to a greater end: positive impact for their employees, communities, and the environment.
B Corps form a community of leaders and drive a global movement of people using business as a force for good. The values and aspirations of the B Corp community are embedded in the B Corp Declaration of Interdependence.
Certified B Corporations like KYPRIS Beauty believe:
That we must be the change we seek in the world.

That all business ought to be conducted in alignment with the Truth that people and place matters.

That, through our products, practices, and profits, businesses should aspire to do no harm and benefit all.

To do so requires that we act with the understanding that we are each dependent upon one another and thus responsible for each other and to each other and  future generations.
(Source)
How is Certified B Corporation Different From Other Certifications Seen in the Beauty Industry?
Almost all of the certifications found in the Beauty Industry are focused on land stewardship - certified organic, Oregon Tilth, ECOCERT, COSMOS, Demeter, Biodynamic, and others. These certifications are important, yet they do not address social and labor concerns. Fair Trade does address living wages but it doesn't address land stewardship. Yet, both are vital. While the vast majority of the ingredients KYPRIS uses are certified with at least one of these certifications, we deeply value being a Certified B Corporation because of its holistic assessment of ecological and sociological impacts.
Given our view that sustainability and regenerative practices are both social and ecological imperatives, we found our home at B Corp's BLab. This rigorous assessment directly vets your complete business operation - from how we function as a company with our employees and contractors to our supply chains to our products' life cycle. No stone was left unturned. 
Thank you for making this work possible. This is your success too!