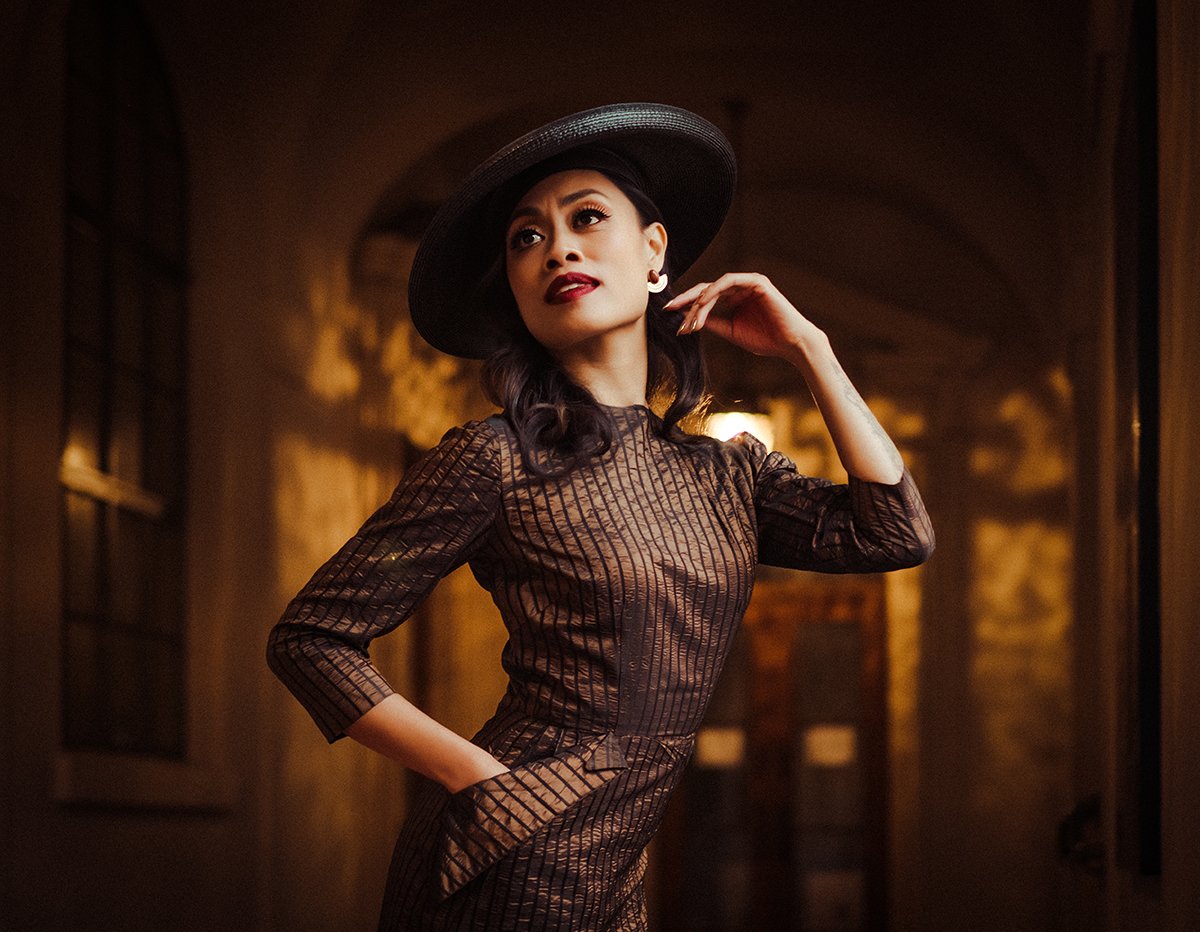 Faces of the Goddess – Claire Van Holland
July 14, 2020
Claire Van Holland is a 50% left brain, right brain split and is equally creative as she is analytical. She has an extensive career building financial projections, budgets & analyses for corporate media. In 2011, she and her husband Aaron co-founded a furniture & home goods business, Karvd Walls, out of a shared love for interiors and beautiful design. After learning the operational challenges of being a small business owner, she applied her corporate finance & operational expertise to help streamline Karvd Walls. It was from this that the idea for her practice, the CV Ledger, was born. Today Claire works closely with other creative based business owners, managing their finances through accounting, bookkeeping and strategic consulting, helping them make more informed decisions using their analytics. In her free time, she moonlights as a burlesque performer and with many years of classical dance training.
---
1. Who and what is foremost in your heart?(Who and what in your personal life is most important to you?)
In a world filled with so much uncertainty, especially as it currently stands, it is so important to know who has your back and who in return you are willing to go out on the line for. My family is my home and regardless of the circumstance and wherever in the world we may be, as long as we have one another, we will be more than ok. What is most important to me is that, no matter what I do, is to live a life that is genuine to myself and in honor of my truth. I realized that for much of my life, I fought against many things that were inherent in my nature. It wasn't until I started to fully accept and love myself that the world began to open up in more ways that I've ever imagined. Never again will I hold myself back.
2. How would you describe your work? How does the work you do impact consumers/environment/world?
All of the work that I do and all of the projects that I focus on center around empowerment. Perhaps all of my major projects and work over the course of my life has been a direct response to challenges I've wanted to solve and overcome for myself in some sense. Through my accounting work, my goal is to provide folks with the tools they need to empower themselves around money. Whether those tools come in the form of setting up tactical processes and strategies to better understand how money is moving in and out of their lives and / or work, or actual hands on training and educating folks around how to manage their own money. I want to help empower everyone I work with so that they are able  to come face to face with their money on a regular basis without fear, shame or anxiety. What I've found over the years is that most people carry a stigma about dealing with money, regardless of how much or how little they make. More than likely something or a series of events may have happened over time that affect how we think about and deal with money. It also doesn't help that our society doesn't ever teach us directly about how to manage our money, thereby making it taboo. As a result of this, dealing with finances even with the best tools and resources at our disposal, can still be challenging if we don't first address our innermost hangups about money. After seeing this same pattern with clients over the years in my line of work, I recognize the importance of addressing this with everyone I work with before getting to the tactical side of money dealings to ensure that once we get to the process of directly managing our money, we are able to operate from a place that is genuine, intentional and productive instead of reactive. 
3. What are you most proud of?
My first creative love is dance. For as long as I can remember, dance has always been in my body, yet I never had the courage to pursue it seriously until the last few years. There were many false starts and stops throughout the course of my life, and my relationship with it has been a bit of a love / hate in adulthood. However, after I left my corporate career to run my accounting practice full time, I knew I needed something else to help keep me balanced and avoid burnout. I realized that dance would finally have a true place again in my life and sought specifically to learn burlesque. There was always something so incredibly empowering to me about being able to command the stage through tease. This was when the world began to unfold as I got clear about honoring my truth. After a serendipitous first time meeting with my hairdresser and now dear friend who is also a stage performer, Bobbi DeCarlo, I was handed a playbook on how to start performing burlesque, what legends to study from and really learn the art in its purest form. My first performance was Valentine's Day in 2018 in a student show. What started off as learning a fun new hobby quickly turned into performing across stages in southern California to New York City within my first year. In my second year of performing, I was invited to perform in Rome, performed my first festival in New Orleans and made the front page of the LA Times Arts section as a FilipinX burlesque performer. I honestly believe all of this was because I finally surrendered to my highest self, fully honoring my truth and am so proud of myself for this, because I have never been so happy.
4. Which is one cause / organization you want us to know about? What would you like to see happen?

 
Currently I don't have a particular cause as there are too many to name. My best advice, especially right now and something that I need to remind myself continually about, is that while there are so many wonderful and well intentioned organizations out there to please do your research. See who funds these organizations, understand where their money comes from and who it goes to, because this will always be telling of the truest intention from which many causes and organizations operate. It is a dangerous thing to blindly stand behind something that we don't know enough about, to ensure that we are in full alignment with any given cause.
5. What are you most passionate about sharing with others at this time?
To empower yourself especially more so in times of uncertainty. It is the greatest gift and act of self-care that we can allow ourselves. In lieu of money, I recently launched Naked Finance, a series of workshops designed to address the emotional side of money. Naked Finance is a journey of self-empowerment through vulnerability. It is the unveiling of the emotional layers around money in discovery of our own internal abundance. Every few weeks, I will be offering these workshops available to everyone that wants to join, free of charge. In the course of an hour, I will provide tools that I continue to practice myself over the years to move past my own money hangups. I'm a strong believer that everyone should have access to do this type of self care and work and am exceptionally passionate about getting the message of Naked Finance to as many people as possible. My next workshop will take place Friday, July 17th at 11am PT. Eventbrite link to register is here.
---
Getting To Know You, the Goddess
Name – Claire Van Holland
Nickname – Mizon Garde (burlesque stage name)
Hometown – Ann Arbor, MI
Current Location – Pasadena, CA
Vocation – Boutique accountant firm owner & burlesque performer
It's 3:30pm, what are you drinking? An Aperol Spritz!
Favorite place you've visited? Between Havana, Cuba & Cinque Terre, Italy
Currently Reading – Sacred Economy by Charles Einstein & Mythos by Stephen Fry
Currently listening to – Sashamarie Radio at sashamarie.co, she has a ton of mixes that versatile, yet perfectly reflect my all the time life soundtrack.
Favorite Sustainable Fashion Brand – These days if I buy anything it is vintage and I have many whose curation I love. Lately I'm loving Shop Neutral Ground based out of Oakland CA, @shopneutralground. I've also gotten some of my favorite dresses from @daintyrascalvintage, based out of northern CA.
---
Getting Personal
Who was / is your favorite pet? Gnocchi or Mokes. While she is no longer with us, I still think about her almost everyday.
Next destination on your list? Capri! While I've gone to Italy a handful of times, I've never been to Capri and dream of that day.
What is one of your superpowers? Manifesting, oddly over the course of my life I have manifested almost everything I've ever wanted for myself since childhood
What was your first job? Or what was your most random job? I started a neighborhood babysitting business at 12 years old, inspired by The Babysitters Club :-)
Who introduced you to your industry? Financial planning — my dear friend and former direct manager, Steven Turacek. Accounting & bookkeeping — Ben Robinson. Burlesque — my friend, stylist & performer TJ Pitts / Bobbi DeCarlo
Best advice you've been given? Money comes and money goes.
Best advice you give? Always listen to your gut, it is never wrong..
Current pleasure? Recently, it's been finding the most quiet of moments, despite whatever might be going on around me and completely turning inward. The other thing that I love doing is cruising down the open (non-traffic) freeway in my 1967 Mustang and listening to good music. Driving can be such a simple, beautiful pleasure, but even more so in your dream car :-)
What is something or someone you're coveting at the moment? ATravel! I long to explore far away places completely unknown to me and the feeling of discovery.
What is one sustainability practice you incorporate in your work/life? Disabling notifications. I did this in preparation for vacation last year and never turned it back on. This has done wonders for my mental sanity.
Who is a thought leader you admire? I have several...Thich Naht Hahn and Marcus Aurelius. Many of the principles from which I live and conduct myself are a blend of stoicism and buddhism.
What / who represents Beauty to you? Nature is the greatest beauty of all. Everything from nature is absolutely immaculate and perfect...even its imperfections. Nature is also the most terrifying because it can take away just as easily as it gives. Everything in nature is fleeting and there is beauty in that. My lesson in this is that while physical beauty is especially fleeting, what we carry deepest within is the beauty that can last forever if we so choose.
What does Beauty mean to you? Beauty starts first within. Inner beauty will always far supersede external beauty. The beauty of the heart, mind and soul is far greater than the fleeting beauty of the external.
What is one Self Care practice you enjoy? Every morning, before I get out of bed, I will do my morning stretches. It allows me moments to simultaneously awaken the physical body and mind in tandem and acts as a form of physical meditation. The difference is very obvious on days that I don't do it.
What is one change you hope to see in the world that you make an effort to embody? Empathy through temperance. With so much volatility in the world today, empathy is largely lacking. I believe that by achieving some level of temperance, regardless of what one's political views may be, that maybe we can at least gain some (or a lot) of empathy for other viewpoints and unify in ways that are much more powerful than being divisive.
You've been given a magic wand, what is your first spell? I would completely eliminate hate from the universe. By removing the ultimate cause of so much pain in this world, my hope is that we could live in a much more unified world without it. A gal can always dream :-)