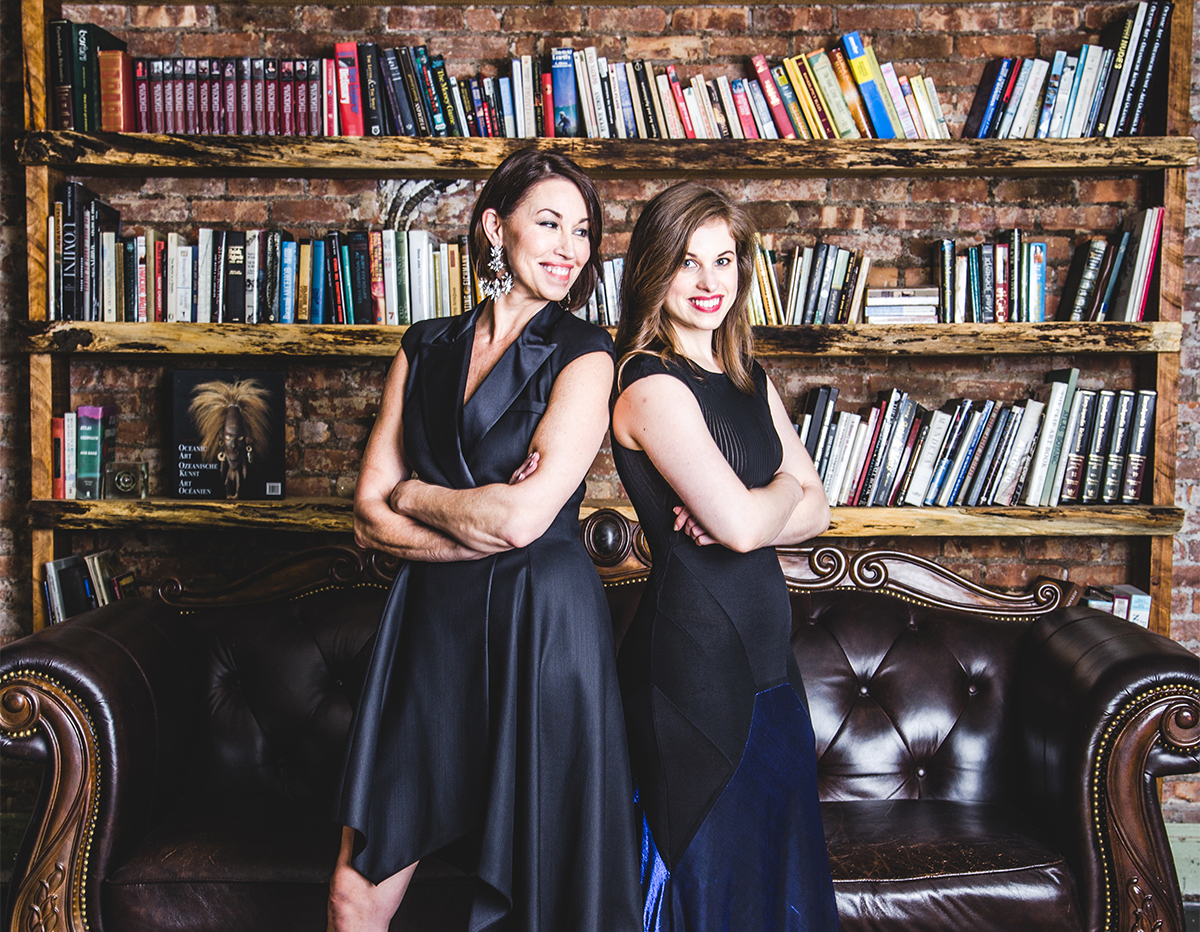 Faces Of The Goddess — The Style That Binds Us
August 9, 2023
Founded by mother-daughter duo Alison Bruhn and Delia Folk, The Style That Binds Us is the original next-generation women's media company and community, exploring the cross section of style and culture. Connected through their shared love of fashion and culture, the pair is changing the way style content and storytelling is presented by delivering style with substance through in-depth interviews that dig beneath the surface.
Instagram | Mini Mag | Facebook | Pinterest | TikTok 
Styling Services | YouTube | Podcast
---
1. Who and what is foremost in your heart? (Who and what in your personal life is most important to you?)
Our family, friends and The Style That Binds Us community!
2. How would you describe your work? How does the work you do impact consumers/environment/world?
We are the mother daughter duo behind The Style That Binds Us and we are on a mission to ensure everyone lives their most stylish & fearless life! The Style That Binds Us is a media company & consulting agency offering style & brand consulting. Our vision is to create a courageous and daring world. Our style with substance content is meant to help people understand how to use their wardrobe as a tool to achieve their personal & professional goals as well as how to control the narrative of how people perceive them.
Our styling services are a solution to any & all style issues one may have, which leads to the process of getting dressed and/or shopping in a much less stressful & more pleasant way.
Our brand consulting services help brands achieve and exceed their goals through our marketing, branding & wholesale consulting packages.
We also support emerging brands globally by introducing them to our audience through our Mini Mag, website, podcast, social media, events and more.
3. What are you most proud of?
Starting a company that impacts people's lives for the better.
4. Which is one cause / organization you want us to know about? What would you like to see happen?

 
We would like to see the 22nd amendment to The Constitution finalized in support of women's rights. Sign the petition for the Equal Rights Amendment here: 
http://sign4era.org/
Discover incredible brands here: https://thestylethatbindsus.com/blog/
5. What are you most passionate about sharing with others at this time?
The importance of a first impression! People make many assumptions subconsciously within seconds of meeting you about who you are. Fashion is your non-verbal communication to the world of what you're all about, and we want to ensure you're sending the right message and not accidentally &/or unknowingly sabotaging yourself.
---
Getting To Know You, the Goddesses

Name – Delia Folk & Alison Bruhn
Nickname – We call each other Bebe
Hometown – Birmingham, AL
Current Location – NYC
Vocation – Co-Founders of The Style That Binds Us
It's 3:30pm, what are you drinking? Water
Favorite place you've visited? Italy
Currently Reading
Delia — "Wonderful Tonight" by Pattie Boyd (We just interviewed Pattie on The Style That Binds Us podcast! Listen to it here. )
Alison — "Taking Care Of You - The Empowered Woman's Guide To Better Health" by Mary O'Conner, M.D. & Kanwal Haq, M.S. (Hear our discussion with the author on The Style that Binds Us podcast – How to Take Charge of Your Health / How to Become Your Own Health Advocate)
Currently listening to
Delia – The Beatles
Alison — "Sunroof", "Cold Heart"
Favorite Sustainable Fashion Brand – Most all of the brands we feature on our blog are either sustainable, responsible or working towards sustainability!
---
Getting Personal
Who was / is your favorite pet? All of the dogs/cats we had growing up were favorites at the time!
Next destination on your list? Capri, Italy
What is one of your superpowers? Pushing women to live a bigger life through living by example
What was your first job? Or what was your most random job?
Delia — First job working at a makeup store in Birmingham, AL! I learned so many makeup tips.
Alison — Sales Associate at Merrill Lynch, and I knew absolutely nothing about the stock market.
Who introduced you to your industry? My mom, through shopping together and picking out clothes growing up.
Best advice you've been given? 
Delia — "Slut" your business card.
Alison — Be kind, the rest will follow. 
Best advice you give? Trust the process and be kind.
Current pleasure? Too many to name! Walks, sunsets, reading, drinks with friends, laughing, walking, live music, etc.
What is something or someone you're coveting at the moment?
Delia – So excited about my new Dyson Airwrap!
Alison – a beach trip
What is one sustainability practice you incorporate in your work/life? Recycling and trying to buy less
What is one part of your process that surprised you when you started?
Delia – That my career turned into an entrepreneurial journey.
Alison – That I would start a business at age 50, and that I would ultimately build a company with my daughter!
Who is a thought leader you admire? Ruth Bader Ginsburg
What / who represents Beauty to you? Beauty is from the inside out. It's more about how you behave than how you look.
What does Beauty mean to you? See above.
What is one Self Care practice you enjoy?
 Masking, taking care of myself, my skincare routine (LOVE KYPRIS, of course), working out, breathing, listening to music and catching up with friends.
What is one change you hope to see in the world that you make an effort to embody?
Learning to use your voice and think of others. I am striving for a more communal society instead of so individualistic. Discover how to find your voice + make a change in your community, city, state or country here: https://thestylethatbindsus.com/how-i-found-my-voice/
You've been given a magic wand, what is your first spell? Growing our company so we can get in front of more people, so we can lift up other's voices and try to create positive change!