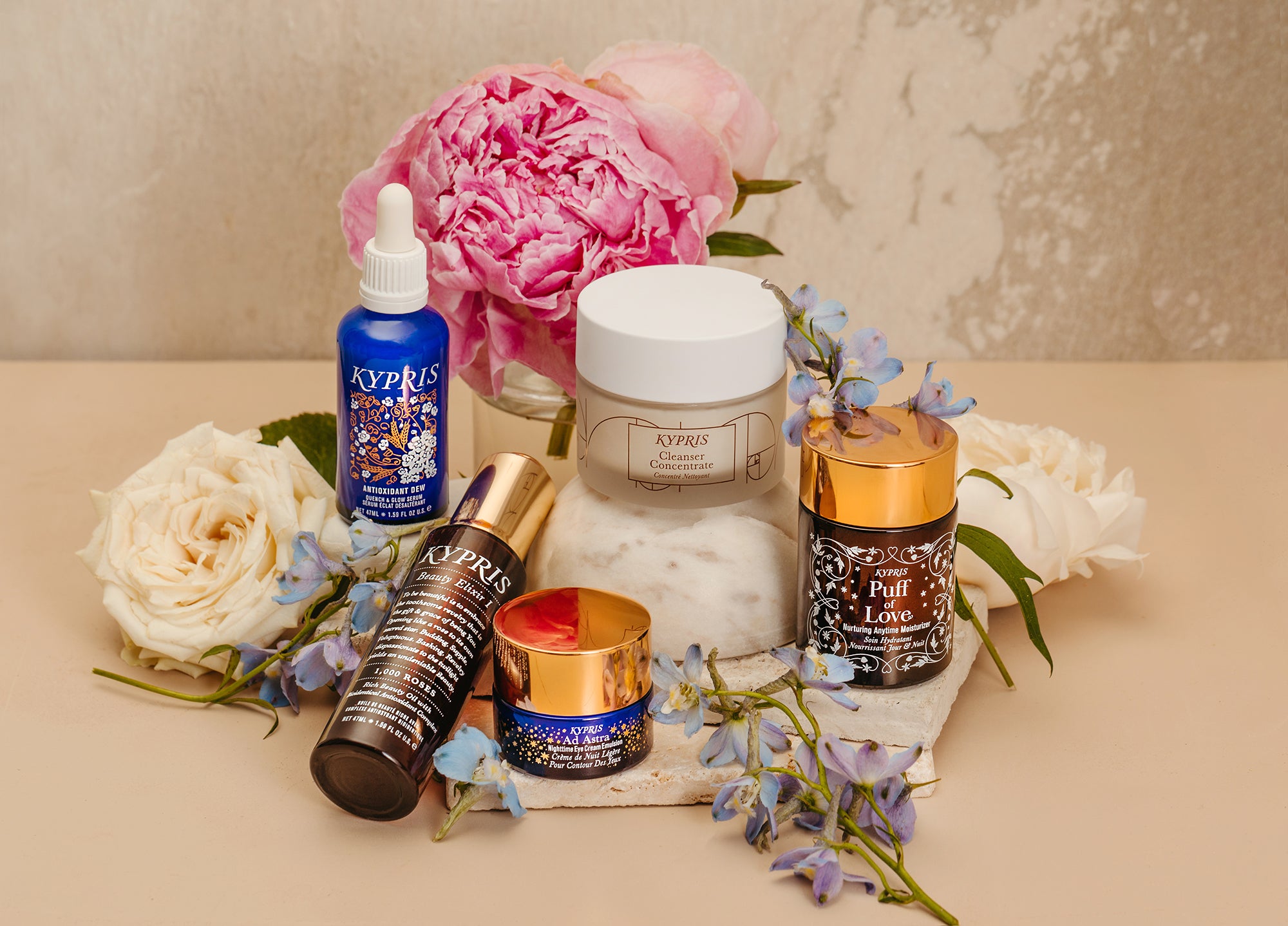 Is Your Skin Dry or Dehydrated? Here's How to Tell The Difference
January 13, 2022
One of the most common questions KYPRIS aestheticians receive is how to know if your skin is dry or dehydrated (or both), and how to address it. Let's break it down!
Dry Skin
Someone with dry skin is likely to have been experiencing dryness most of their life.


Looks Like:
Flaky

Red

Can occasionally mask itself as combination oily/dry skin, as dry skin overproduces oil to compensate for barrier disruption
Feels Like:
Rough

Itchy

Thin

Uncomfortable redness or flaking under a slick of oil
Needs: Moisture (oil!)
Do:
Use an ultra gentle, non-drying cleanser
Moisturize thoroughly day and night with facial oils and lucious moisturizers
Gently exfoliate skin weekly to encourage natural sloughing and ensure excess dead skin doesn't stand in the way of your moisturizer doing its job
Incorporate hydration into your skincare routine with adequate moisture to nurture your skin's barrier
Don't:
Don't use a cleanser that will strip or irritate skin - foaming cleansers, and even some creamy ones, can masquerade as gentle but are actually made with drying ingredients

Don't over-exfoliate skin - this will strip skin of the lipids it needs

Don't only apply hydration (like serums and gels) without sufficient oils and moisturizers

Don't assume because something stings, it's working. Your skincare should never hurt or itch
KYPRIS Regimen:
Step One -

Cleanse skin with

Gentle, Non-Foaming, Creme Cleanser Concentrate

.

Step Two - Using Beauty Elixir I: 1,000 Roses (richest formula, for rose lovers) or Beauty Elixir III: Prismatic Array (for those with scent sensitivities), and Antioxidant Dew Hydrating Serum (plus Moonlight Catalyst Nighttime Serum as desired in the PM for gentle exfoliation and refinement), create a custom micro emulsion with a slightly higher ratio of Beauty Elixir for extra moisture. For example, you may start with 3 drops Antioxidant Dew Serum + 5 drops Beauty Elixir Oil, and adjust as your skin desires.

What is a micro emulsion?

When you create a micro-emulsion, an oil-based Beauty Elixir is blended at your fingertips with a water based KYPRIS Serum. The result is customized wax-free moisture (from the oil!) and hydration (from the serum!) calibrated to your specific preferences and desired benefits. This unique combination sinks into skin beautifully.

Those with dry skin are more likely to also experience dehydrated skin, making this hydrating and moisturizing duo an important step.

Step Three -

Generously apply

Puff of Love Nurturing Anytime Moisturizer

overtop for pillowy, brightening, soothing moisture crafted to care for the outermost layers of your skin. Luscious plant waxes cocoon your skin to ensure a dewy, soft, glowing complexion.

Step Four - In the AM, protect your skin's barrier from sun damage with Pot of Shade: Heliotropic SPF 30 & Primer.
Dehydrated Skin
Dehydrated skin lacks water, a condition that all complexion types can experience, even those with very oily skin. Day-to-day life - like insufficient water consumption, increased exposure to hot air or cold air, hot water, strong wind, and breastfeeding without proper rehydration - can lead to dehydrated skin, and in some cases extensive sun damage can lead to chronically dehydrated skin. There are also circumstances like chemotherapy, menopause, and a whole array of conditions or medications, like Retin A, that can lead to dehydration.
Looks Like:
Dull

Papery Skin

Darker under eye area

Increased appearance of fine lines and surface wrinkles
Feels Like:
Needs: Hydration (water!)
Do:
Drink adequate water daily!

Use an ultra gentle, non-stripping cleanser

Quench skin thoroughly day and night with water-based serums and appropriate oils and moisturizers

Provide extra hydration as needed with soothing water-based mask treatments

Gently exfoliate skin weekly to ensure sluggish dead skin cells do not impede your skin care from performing

Lock in hydrating products with lucious moisturizers

Wear a non-drying SPF like its your bestie
Don't:
Don't over-exfoliate skin

Don't over-expose skin to drying elements (hot air/water, strong wind, etc.)

Don't get too much or too little sun

Don't only use hydration and no oils or moisturizers - beautiful skin requires both

Don't over consume refined sugar or alcohol
KYPRIS Regimen:
Care for delicate, dehydrated eye areas to Ad Astra Rich Nighttime Eye Cream, and Illuminating Eye Daytime Serum & Primer as desired.