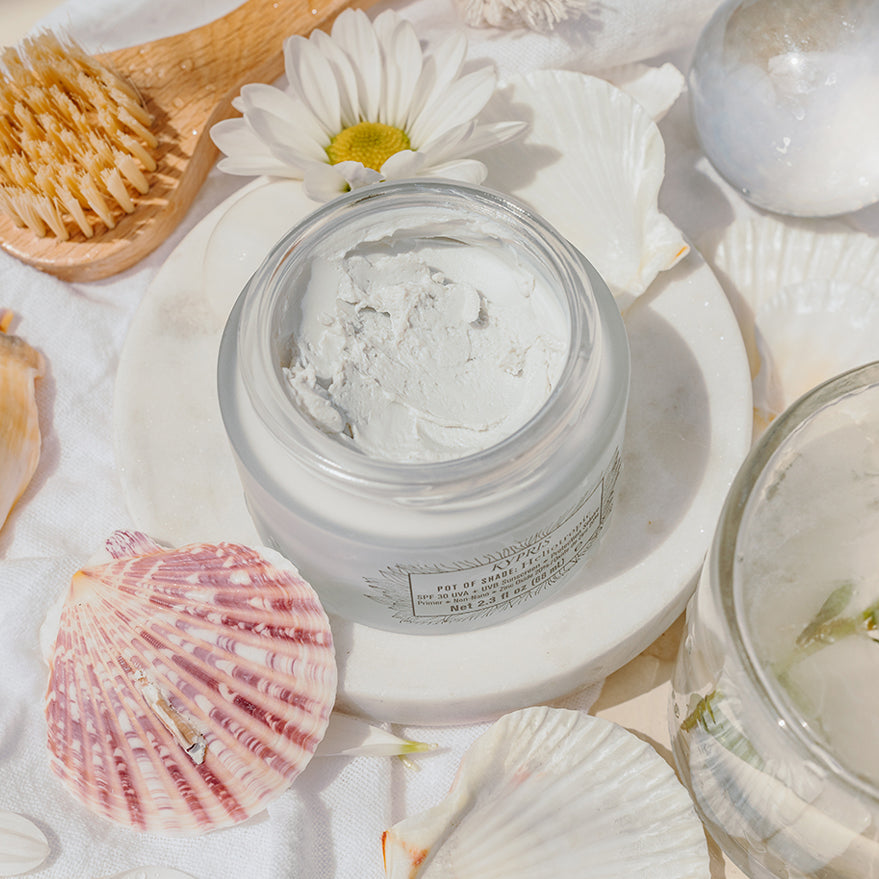 Proper Suncare Is More Than SPF
June 2, 2022
Hello Sun Goddesses,

To honor the transition from Spring to Summer, both externally and internally, we must make small adjustments in our daily routines. Our diet may change to delight in the vibrant Summer harvests. Our wardrobe may shed layers. And while many know to apply SPF in abundance, there are other necessary practices to care for your sun-soaked complexions.
Invite Hydration
The summer warmth and high sun strips us of hydration and bakes our skin, leaving us parched and thirsty. We need to replenish both internally and topically. So please make sure to drink your water and sparkling water - on its own or with twists of your favorite fruits. And on skin, KYPRIS Serums, our water soluble hydrators, replenish skin with lavish actives and intense hydration, while allowing you to customize your skincare routine day and night. 
KYPRIS Serums


Boost Your Antioxidants
Too much of a good thing is great with an antioxidant boost, particularly during summer. Offerings rich in antioxidants like CoQ10, Vitamin C, Glutathione, Superoxide Dismutase, Ferulic Acid, and Ectoin are bountiful in the KYPRIS Collection designed for sun-drenched and overexposed skin. Diminish the appearance of environmental stressors to keep skin feeling beautiful and glowing. Apply beautifying antioxidants before, during, and after sun exposure with your SPF for dewy, happy skin. 
Sun Overexposed Complexion Collection


Don't Forget About Post Sun Care
Time in Sun is important for our circadian rhythm, vitamin D, and happiness. Yet, sometimes, we get too much and are left with wilted, grumpy complexions. KYPRIS has paired the perfect offerings as an apres-sun treat to care for weather-worn complexions to soothe and lovingly reinvigorate. 

A Simple Summer Skincare Routine
The greatest delight of summer is the chance to slow down, simplify our lives, and relish in the warmth of the longest days of the year. We believe in doing the same with our skincare rituals, eliminating makeup and overly complicated skincare routines, to reveal the perfect summer glow with ease and relaxation. Here is our favorite ritual for a daily glowing complexion:
Begin by offering yourself an honest compliment - Try it! It's neuroscience! 

Cleanse with Cleanser Concentrate

Create a Micro-Emulsion with Antioxidant Dew and your Beauty Elixir of choice

Apply a veil of sun protection with Pot Of Shade

Keep lips deliciously kissable with golden fractions of sunflower and buttery shea by finishing with Lip Elixir Balm

 
As we embrace the heart-warming effects of the warm air and the summer sun we support you in taking the time and care to offer your skin additional love. 

If you wish to have a custom summer ritual designed for you by a KYPRIS Aesthetician please write to us at care@kyprisbeauty.com
Happy Frolicking!