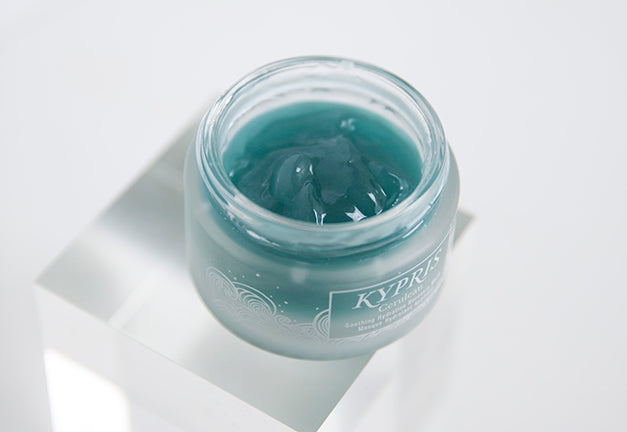 Self Care – A Gift To You & Those You Love
December 13, 2018
Hello Lovely!
Welcome to December…
A month that twinkles with beauty yet can be full of outside demands propelling us all to a quick close of the year. As we enter the last month of 2018, we seek to offer our bodies and spirits moments of quiet reflection and pampering amidst the chaos.
Our Cerulean Soothing Hydration Recovery Mask is ocean alchemy that ebbs and flows stillness with activity for a unique sensory experience of holistic rejuvenation and sensorial bliss.
Each mighty pot of blue contains a collection of 36 botanicals and active natural ingredients evolved from Nature's intelligent design.
May we suggest that you slip into a state of bliss during the month of December with the help of our Cerulean mask in whichever way best serves you.
USE CERULEAN AS…
An Intense Hydration Recovery Mask
to replenish hydration, soothe the appearance of redness, and revive skin's softness. Perfect for a mile-high spa treat while in flight or post flight.
A Sleeping Mask
in combination with a KYPRIS Beauty Elixir overtop to replenish hydration, soothe the appearance of UV overexposure, revitalize the beauty of skin's delicate barrier all while you slumber.
An Aprés Beach or Aprés Ski Mask
to quench sun overexposed skin and to soothe the appearance of weather-worn complexions. Apply immediately after exposure to the elements. You may choose to cool the mask in the refrigerator for an hour before applying for an ultra-soothing, reinvigorating after-sun masking treat.
A Soothing Anti-stress Mask
that quiets the appearance of city stress on skin. Apply as desired to hydrate and relieve the appearance of frazzle from everyday environmental stressors.
Learn more about Cerulean ingredients and usage here.  
However you choose to enjoy, do so with kind eyes and loving hands.
Sending you Love & Peace & Glowing Skin Wishes…
Your KYPRIS Team