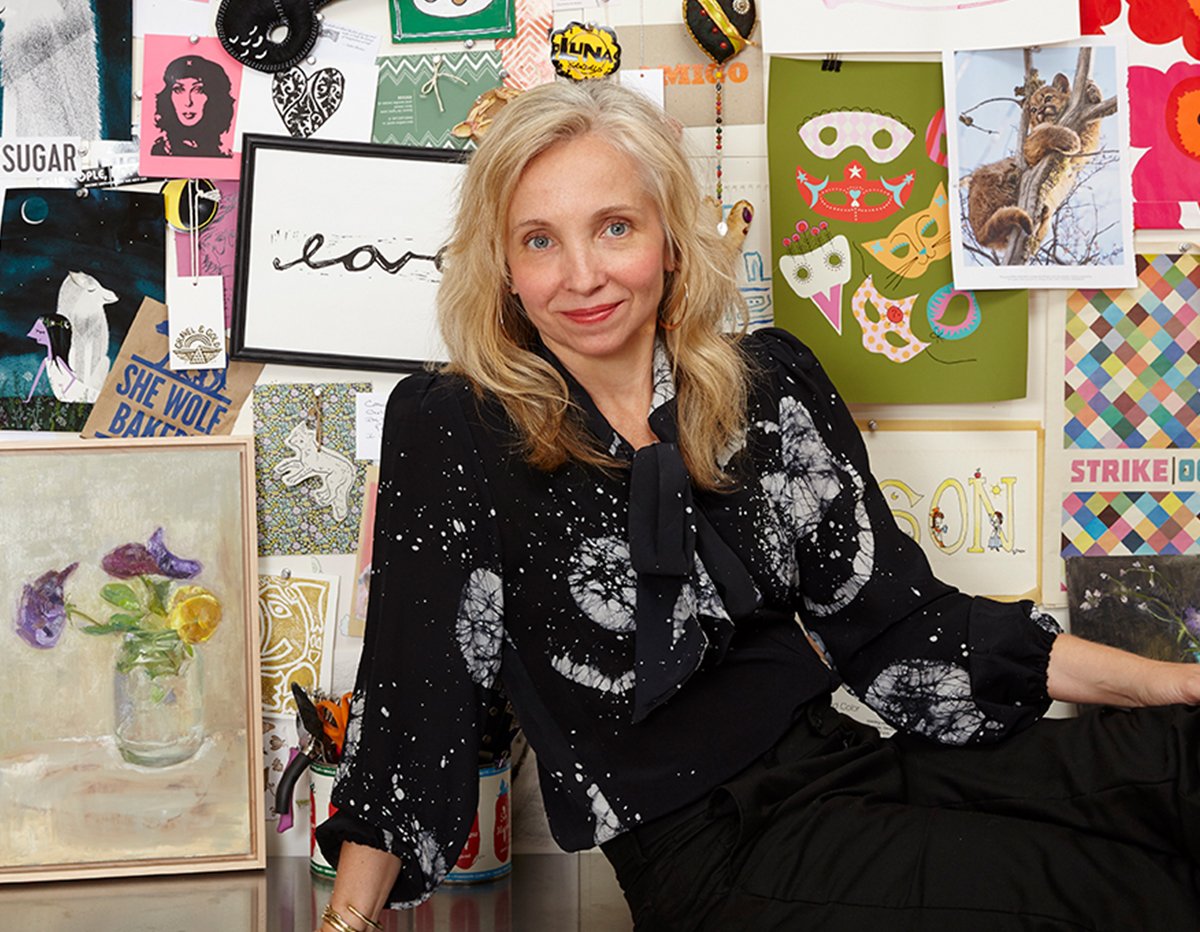 Faces of the Goddess – Alison Oliver
July 27, 2020
Alison Oliver is the author-illustrator of Moon and Sun, and the illustrator of 30 BabyLit board books. She is also author-illustrator of the Be Bold, Baby board book series, featuring biographies of inspiring women, and the illustrator of the newly released picture books, The Bear's Garden and The Breathing Book. Alison lives in New York City, where she runs a studio called Sugar that focuses on design, illustration and painting. When she isn't happily working in her studio, she likes to do yoga, cook and preserve food and stare at her cat.
---
1. Who and what is foremost in your heart?(Who and what in your personal life is most important to you?)
My mom has always been the person closest to my heart. I got so many things from her—any creativity I have definitely came from her. She passed a little over a year ago but now I just feel like she is always sitting on my shoulder giving me a thumbs up when I'm making stuff. I dedicated my first picture book to her "for keeping me wild" because she encouraged my interests and let me be myself without and judgement.
2. How would you describe your work? How does the work you do impact consumers/environment/world?
I would say it's colorful and friendly, hopefully joyful. I like to put in a little details for people to find, maybe not the first time they see it. I definitely have a philosophical point of view that I try to share with people. For instance, with my first two picture books, Moon and Sun, the stories are separate but also meant to be enjoyed as a pair. While Moon is about finding connection through stillness, Sun is about finding it through creativity. Nature is the place that offers both characters that experience. The wild "being" of Moon and the creative "doing" of Sun go together like night and day. Together they make a whole, balanced, beautiful life.
3. What are you most proud of?
Having my own business for 20 years. As hard as it is sometimes, it has been incredibly rewarding.
4. Which is one cause / organization you want us to know about? What would you like to see happen?

 
There are so many things that need attention right now, but one that is close to home for me is Save Indie Bookstores. Indie bookshops have been taking a hit for a long time, but the current pandemic is really putting them in jeopardy. To me, bookshops and coffee houses are the two places I like to go when I first visit a place; they always have good vibes and help you understand the culture of a place in shorthand. The experience of making a discovery you didn't even know you needed to make when you stumble on an unknown book in a bookstore can't be matched online. They are real treasures and we need to preserve them.
5. What are you most passionate about sharing with others at this time?
That we can find peace inside of ourselves. Sometimes just by taking a few breaths with our eyes closed. I like to do that with my hand on my heart. It is a very anxiety-provoking time, but if we find a still place we can feel calm again and then we can sense the connection to all beings. And then it's easier to be kind to each other.
---
Getting To Know You, the Goddess
Name – Alison Oliver
Nickname – Al
Hometown – Louisville, KY
Current Location – New York City, NY
Vocation – Designer & Illustrator
It's 3:30pm, what are you drinking? Stinging nettle tea with honey
Favorite place you've visited? Barcelona!
Currently Reading – Circe by Madeline Miller
Currently listening to – So many podcasts! I love "Between the Worlds" by Amanda Yates Garcia and Carolyn Pennypacker Riggs; I also love "The Katie Halper Show". Katie is super smart, informative and also has a great sense of humor.
Favorite Sustainable Fashion Brand – Two that I wear over and over and always feel happy in are:
Gravel and Gold
, a woman-owned design collective in San Francisco (every season they do new handmade prints by artists and adapt them into pieces) and 
Osei-Duro
, a woman-owned company that makes traditional block print and batik textiles in Ghana. Their pieces are like works of art and easy to wear.

---
Getting Personal
Who was / is your favorite pet? Moonbeam Sparkle Oliver (my cat)
Next destination on your list? Mexico City
What is one of your superpowers? Focus
What was your first job? Or what was your most random job? My first job was babysitter. My most random job was throughout college, I worked at Subway sandwich shop (the late night shift and I loved it!)
Who introduced you to your industry? I would say Ezra Jack Keats, author and illustrator of picture books like "Whistle for Willie" and "The Snowy Day." I loved them so much as a kid and it made me always keep book illustration in the back of my mind as something I would like to try. I also blame him for my lifelong obsession with living in NYC. He made it look so magical.
Best advice you've been given? Visualize something you would like to manifest, but then don't be attached to the outcome. 
Best advice you give? See how something feels, don't just use your brain.
Current pleasure? I am making a sourdough starter for the first time and find the process of growing and nurturing the starter to be very satisfying.
What is something or someone you're coveting at the moment? Practicing yoga at my yoga studio (The Shala in NYC); as I am answering this during the quarantine, I am missing the energy of a group of people a lot!
What is one sustainability practice you incorporate in your work/life? Repurposing. I repurpose so many things for bits of collage in my illustrations, so I keep a box of my old drawings to reuse later and other things I find around. 
Who is a thought leader you admire? Cornell West
What / who represents Beauty to you? The color pink. I love it in all it's forms. I always think I will get tired of it but I just never do. My studio has so much pink in it and as soon as I open the door I am filled with joy.
What does Beauty mean to you? Truth. Whether you hear it in words or see it in a piece of art, you feel it all over your body. And that is beautiful.
What is one Self Care practice you enjoy? Meditation
What is one change you hope to see in the world that you make an effort to embody? The presence of empathy
You've been given a magic wand, what is your first spell? End all war.