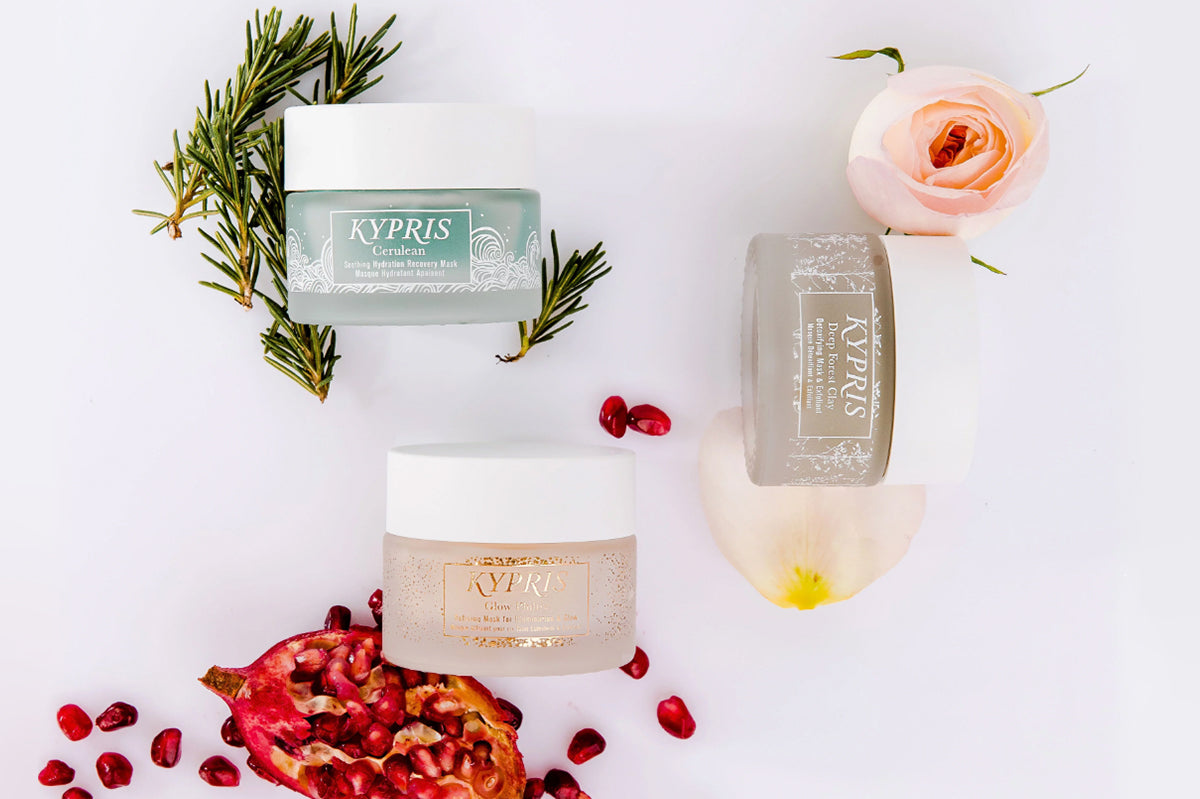 May is for Masking!
May 13, 2019
Happy May! The month of May is a fantastic time to explore all three of the KYPRIS masks, and to indulge in the unique benefits and sensorial experiences of each. 
In May we are so excited to introduce our NEW Mini Multi Mask Collection to you! Hydrate, Brighten, and Clarify the appearance of your skin with the three KYPRIS masks in mini sizes.
——————————————
THE NEW MINI MULTI MASK
COLLECTION INCLUDES
——————————————

Mini Cerulean
Soothing Hydration Recovery Mask
(12.5 mL)


Mini Deep Forest Clay
Clarifying Mask & Exfoliant
(12.5 mL)


Mini Glow Philtre
Refining Mask for Vibrant Luminosity
(12.5 mL)
Why We Love Each KYPRIS Mask
Cerulean to intensely hydrate and soothe – Hydrate, soften, and soothe skin's appearance with refreshing oceanic actives, nurturing peptides, & luscious cherry blossom extract. Use as a mask or with a Beauty Elixir overtop as an intense overnight sleeping treat.  

Glow Philtre to refine and brighten – Refine and brighten skin's appearance to reveal glowing, vibrant skin with pomegranate pith enzymes, thalassic extracts and stem cells, and ultra hydrating silver ear mushroom.

Deep Forest Clay to exfoliate and clarify – Gently smooth and clarify skin's appearance with cleansing clay, mineral-rich oceanic salt, soothing Hawaiian Sea algae, and multidimensional exfoliation with citrus of paradise AHAs.
How To Use The Mini Multi Mask Collection

Use each mask as is, or customize to indulge in a pampering spa experience wherever you may be and wherever you may wander…
If you would like to indulge in all three masks may we recommend the below masking ritual.


Step 1 – Apply Glow Philtre Mask to gently prep and soften skin. Leave on for up to 20 minutes. Rinse with a warm or cool cloth.

Step 2 – Apply Deep Forest Clay Mask to clarify and exfoliate skin. Leave on for up to 20 minutes. Wet fingertips to re-wet the mask. Work granules into skin. Rinse.

Step 3 – Apply Cerulean Mask to hydrate and soothe skin. Leave on for up to 20 minutes or for amplified benefits, use as a sleeping mask overnight. Rinse with cool water.
Who Is It For?

The Mini Multi Mask Collection is perfect for anyone desiring travel sizes of their favorite KYPRIS masks, or for those who want to explore all of the delicious ways to pamper their skin with a pot of botanical masking Love.